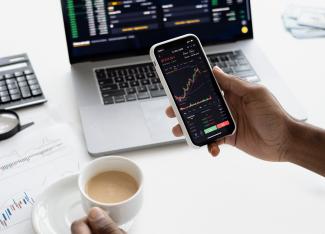 Tech Stocks Reach New Heights
Tech Stocks Reach New Heights
Despite being in a global pandemic, Nasdaq and tech stocks have boomed. The global economy has been shuttered by the coronavirus throughout the past year, but key tech stocks have led a stock market recovery. The Nasdaq Composite has also been up, gaining 12% in November making it the best November since 2001. While the unemployment rate has gone up due to both temporary and permanent closures of certain businesses, that has not affected every sector. A tech pioneer became the richest man in the world during this time. The past year has been challenging for many individual businesses, business sectors, our country and the rest of the world.  Despite the deaths, infections, shut-downs, and job losses due to COVID-19, some tech stocks have thrived.
The World of Technology
Tech stocks have done well during the pandemic because investors are putting their money where they can continue to find growth. Many tech companies are reporting sales growth of 40%, 50% or more. While our economy was shifting toward remote working and e-commerce, the pandemic hastened the transition. Many of the tech companies benefited as a result, for example Zoom and Microsoft due to their remote meeting platforms. Tech companies are driving our economy forward with advancements that we didn't dream possible a decade ago. 
Long term investors are likely positioning themselves in the sector for multi-decades of growth. Also, many tech companies were not affected by shutdowns because much of their business platform was already online and their employees were working remotely or better prepared to work remotely. Some of the most popular tech stocks in 2020 and projected in 2021 are Apple, Microsoft, Amazon, and Netflix. Amazon thrived because the pandemic caused a big shift toward e-commerce and Amazon had the platform to handle the increased business.  Their higher sales easily offset the additional pandemic related costs that they incurred. Netflix has also done well because people were forced to find entertainment at home during the pandemic causing the user base to grow rapidly.
Tesla and the Growing Stock Market
Elon Musk also became the richest man during these troubling times. His wealth surge over the past year marks the fastest rise to the top of the richest list in history, with a net worth of more than $185 billion, mainly because the company that he founded and leads, Tesla, is valued at an all-time high. This marks a dramatic financial turnaround for the famed entrepreneur. Tesla's rocketing share price, which has increased more than ninefold over the past year, and his generous pay package have added more than $150 billion to his net worth. Tesla's share price has increased by over 650% in 2020. Many key events have occurred to help lift the company's stock. In May, Tesla started production at its California factory following a pandemic-related shutdown and legal battle with the state. Also, in July, Tesla posted its fourth straight quarter of profit and beat delivery estimates. At the end of the summer shares also got a boost when Tesla announced its first stock split. Musk created an entirely new market in electric vehicles and it also is a leader in battery technology. It has been argued that these accomplishments, while impressive, hardly justify the large increase in the stock price.  Much of the increase is likely driven by the market exuberance in the tech sector. 
High In-Demand
Tech stocks thrived during this time because of the increase in need of technology. It is likely to continue to increase because technology will constantly change to meet the changing needs of industry and people. Many investors bought stock in the tech industry because they saw how companies like Apple and Amazon were thriving. Elon Musk's innovation and vision attracted many investors which, in turn, boosted Tesla's stock making him the richest man in the world. While many millions of people were hurt financially, emotionally, and physically by the pandemic, the tech market and people like Elon Musk thrived.