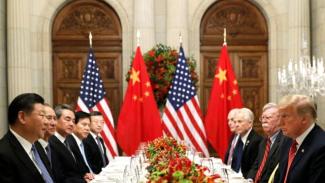 Game of Trades, Series Finale? Or More Chaos Ahead?
As millions tuned in to watch the HBO series Game of Thrones in its series finale this past weekend, deteriorating trade relations between China and the U.S. has led to some stock market carnage analogous to the bloodshed the series is known for. In the week ending May 10th the S&P 500 fell by 2.2%, the worst weekly decline since December. This was followed by a 2.4% decline for the index on Monday May 13th, the worst day in four months, as market participants digested the ongoing trade tensions one tweet at a time.  While the resurgence of a trade war may to some feel like the rain of dragon fire on King's Landing, we are still only a few percent off of record levels. However, the recent turbulence has felt like a bit like chaos, so let's take a deeper look at the game of trades that is driving the recent spate of volatility and its longer term impacts. 
The fears around increased tariffs, protectionism policies, and a global trade war lies with its impact of higher costs and increased prices for consumers and businesses, which may in turn slow down consumption and economic growth. President Trump campaigned on ending lopsided trade agreements and narrowing trade deficits in areas he viewed the U.S. as being taken advantage of. The topic of free trade versus protectionism is widely debated and points can be scored for either side. Many argue that the globalization of nearly every product we use on a daily basis has made items such as smart phones, clothing, and food more affordable and improved quality. Others would argue this system has created uneven growth and job losses in wealthier countries. 
The state of trade relations with China has been in and out of the news over the past year and did serve as a large driver of the fourth quarter's extensive selloff. The first rounds of tariffs go back to January 2018 when a 25% tariff was announced on washing machines from China. In turn, and as they have done with nearly every U.S. tariff announcement, China retaliated. More recently, a deadline to reach a trade deal was not met and resulted in the U.S. raising tariffs to 25%, from 10%, on $200 billion of Chinese goods. China fired back with its own set of tariffs; of 20-25% on $60 billion of more than 5,000 products of U.S. goods beginning June 1st. China also outlined its concerns and price for a deal which would include all tariffs being removed, targets of U.S. purchases that should be in line with demand, and that the text of the trade deal should be balanced to ensure dignity of both nations. 
Following news of China's retaliation, President Trump took to Twitter to call out China's President Xi and the country's trade officials staying that "… China will be hurt very badly if you don't make a deal because companies will be forced to leave China for other countries. Too expensive to buy in China. You had a great deal, almost completed, & you backed out!". President Trump has also threatened to impose tariffs on all of the remaining Chinese imports. China, who purchases far less from the U.S. than it sells, is limited in their retaliation of tariffs but the country has other ways to apply pressure. Measures include devaluing the yuan to offset the impact of U.S. duties, or selling off the substantial U.S. government debt that it owns. However, these options are viewed as less likely to occur and potential last resorts for the Chinese government, as the costs may outweigh the benefits. 
Despite the troubling headlines and fears of economic damage, both countries have left a window for negotiators to try to reach a deal before the latest round of higher tariffs goes into effect. Both leaders are expected to meet at the G-20 summit in Osaka, Japan in June. At their last G-20 summit the two Presidents agreed on a 90-day ceasefire that put tariffs on hold. President Trump certainly would like to reach a resolution that could be scored as a victory for his 2020 campaign. A deal is also likely in President Xi's best interest as he would like to avoid a drop in China's growth, especially as the country continues down its transition from being export led to a consumption-based economy.   
Trade negotiations between the two powerful nations continue as America's favorite HBO series comes to a close. Despite what news outlets covering the trade talks may have alluded to, the market reaction of a brief selloff is not the death and destruction that if often left on the Game of Thrones battlefields. While the rhetoric and tweets may continue to heat up over the next few months, hopefully both sides can see the value of reaching an amicable agreement. As Petyr Baelish, more commonly known as Littlefinger, said "Chaos isn't a pit. Chaos is a ladder". Perhaps the current chaos with tariffs and threats is a necessary evil and may result in improved global trade relations moving forward.